Anachronism mod
v0.07 :
Get here!
Visual-only version :
Click here
Vanilla-stats mod :
Click here
(vanilla gameplay but weapon statistic bars are drawn more accurately and with extended info)
!!IMPORTANT NOTE!!
Upon starting a new game, rebind your beams, cannons and missiles to Mouse buttons 1, 2 and 3 for individualized weapon control (look under Tactics>Advanced tactics)! Your ship's reactor will not be able to support firing both cannons and beams simultaneously, and you will otherwise be very, very confused.
Recommended: skip chapter 1, normal mode, smallest galaxy size
Anachronism is a mod based around two basic ideas:
☢ Semi-modular ship design
☢ Faster-paced and more strategic gameplay
With Anachronism, you can customize every ship with a number of module units (unlocked through the Hull tech path) designed to expand what your ship can handle and do.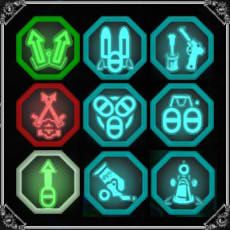 All ships can carry more weapons than their reactor can power, so switching judiciously between your beams, cannons and missiles are key to surviving the much more unforgiving new world. (But we've thrown in a few new toys to help you too
)


List of added modules | Click to toggle: +

Shiv - short-ranged armor-piercing beam
Gravitic lance - Mass effect (comes in 3 colors!)
Corruption beam - Why would you use this?
Stardust cannon - Rapid-firing short-range ion cannon
Bio-plasma emitter - Fires energy blobs either in a straight line or 360 degrees around you
Collector turret - Deployable turret that picks up rez and adds it straight to your bank
Cargo bay - 30% increased cargo space
Atomizer - Upgraded mining beam with constant output
Focus booster - Greatly increases beam and cannon range
Cloak-buster scanner - Detects cloaked targets and does ion damage
Efficient engine - Almost zero power drain for decent mobility
Basic armor - Starter-level armor that gives you an alternate choice to light armor
Light shield - A low-powered shield that reestablishes and recharges quickly
Shimmering cloak - Ship vanishes much more quickly after every shot
Weapons, reactors and engines are balanced around three archetypes:
☢
Fighter-style:
agile dodgers that hound ships continuously, fast-firing weapons with high power draw

☢
Assault-style:
high top speed but low maneuvereability designed to run away after delivering each salvo, per-shot damage is high but firing rate is terrible
☢
Bomber-style:
heavier and slower than most with the most inaccurate weapons, but highest damage potential
List of major changes:
☢ Steampunk-style visual remake for many (soon to be all) Space Pirate faction ships.
☢ Tweaked mechanics to make player skill more important in the outcome (no auto-tracking for most missiles, for instance). Most UTA-style modules are side-grades to Civ-style modules rather than direct upgrades. Most modules now have significant weight.
☢ Large arsenal of weapons per ship with the use of module units, but highly limited reactor output and capacity. You have to choose which weapons to fire.
☢ Research upgrades grant far less of a boost. This is to promote spreading your tech points around for diversifying your weapon pool.
☢ Damage type strengths and weaknesses now actually matter--no matter your tech investment, energy weapons will always be better against shields than projectiles, and so on. If you are not efficient with firing the right weapons at the right time, you will quite easily be locked into unfavorable trades.
☢ Several new weapons are available. Some old weapons are gone (like the leech beam--it screwed with the limited reactor power too much).
☢ Increased ship mobility with higher speed limit, increased thrust and no drag.
☢ Several extremely rare enemy-only hulls appear on high-level systems (see - what's new in 0.04)
Have fun.
Mod contributors: Arch, Val & Stone